2017 Valedictorian Parker Bartz
Hang on for a minute...we're trying to find some more stories you might like.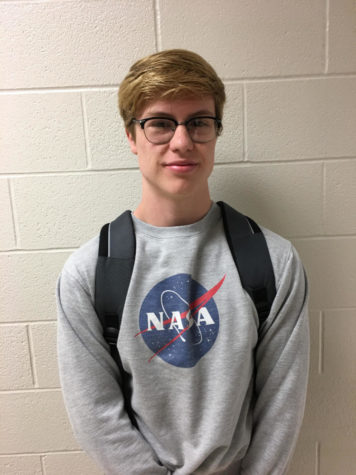 It's the middle of summer, and you get a call from East. You just got notified that you are the Valedictorian for the class of 2017. Your palms are sweaty, and you start to go crazy, you find yourself asking, "is this real?" It's at that moment you realize that this is not a joke, and it's in fact very real. This dream became a reality for senior Parker Bartz. Meet Parker, a driven and superb scholar, who happens to be the Valedictorian and the Vice President for the class of 2017. "I found out the summer before this school year that I was the valedictorian. I was notified because I had to give a speech for the academic letter ceremony," Parker said. "It was very cool. My parents and I were both particularly impressed." Even though he is at the top of his academic game, Parker said that he still strives to achieve higher standards for the future. When asked who has inspired him to continue down the road to success, Parker admitted that he has been inspired to be successful simply because he has had good teachers. "Mrs. Luft has been my orchestra teacher for all four years, and Ms. Singh has been there for me for two," Parker said. While some people may believe that he has a gift for learning, Parker explains that things have not always been easy for him. "I've definitely had hard classes, and times where I feel like I am not doing as well as I can," Parker said. Parker expresses that he definitely has had to sacrifice sleep to be number one. "I definitely don't get the amount of sleep that I should be getting." Parker is not only an academic scholar, he also participates in many sports and clubs that East has to offer. Throughout his four years at East, he has been apart of cross country, swimming, tennis, National Honor Society, and student government. He is the perfect definition of a student-athlete. "If you haven't already joined any clubs, do it right away. You might not think you're gonna do well, but you'll surprise yourself." Parker is not the only Bartz child that attends East High School. He is accompanied by his younger brother, Carver, who is a sophomore. "He is highly smart and very talented," Carver said of his big brother. "He's very good at what he does and he knows what he's doing." Carver also explained how his brother's success has pushed him to be the best that he can be. Sometimes people compare him to his big brother, and he is totally okay with that. "Everybody's always like 'hey, your brother's the valedictorian, are you going to be the valedictorian?' He's set the bar for me. It's nice to have that. He gives me a challenge," Carver said. While he is an exemplary student, senior Brandy Cam clearly states that there is much more to this Valedictorian than just books and homework. "He's really genuine. He takes care of his family and he looks out for all of his friends. He's a sweetheart," Cam said. "He's really funny. He doesn't judge you, and he's very open-minded." As class President and Vice President, Brandy and Parker are the voices of the students here at East High School. Brandy is the President of the student government, and Parker is the Vice President. The Brandy-Parker duo have been the best of friends since the seventh grade. "He's a big headache sometimes, but he's one of my best friends and I wouldn't want to be working with anyone else," Cam said. Cam had a special message for her long time friend as they both part their separate ways for college. "I just want to let him know that I'm proud of him, and somebody else out there is proud of him also," Cam said.