East Science Bound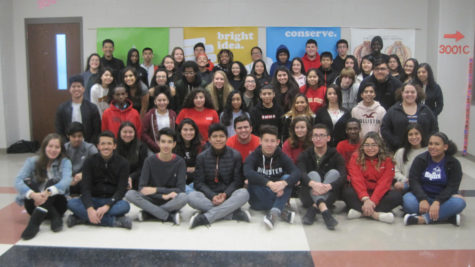 What is Science Bound? You may have heard of it, but do you really know what it's all about.  
Science Bound is a scholarship program for minorities students who want to go to college for an ASTEM (agricultural, scientific, technical, engineering, and mathematics) career path in the future. Science Bound has programs in the Des Moines Public School District, Denison School District, and Marshalltown School District. Iowa State University oversees the scholarship program and provides many of different activities for each student that is chosen for the program. Students can get chosen for the scholarship program by being an outstanding student in classes and through a teacher recommendation. A handful of students get chosen in their late seventh grade year and go through a progress to officially enrolled in Science Bound. 
Science Bound has many different projects the students must do. They must do a Science fair project in middle school. In high school, they must do a science fair project, career exploration project, and an ASTEM project. Also, in high school, you must have a 3.0 or higher GPA to stay in the program and a 75 percent attendance to Science Bound meetings.  
During the summer time, students must do a summer experience like volunteering or interning at different places, recording 40 hours of your own time.  
They also must do oral justifications. Des Moines Public School Science Bound students go to Central Academy while the Des Moines Public School juniors' students are taking the ACT. They present to any adult in Science Bound and give them reasons on why we should continue in the program and why they should get the scholarship. Seniors must do a group oral justifications and talk about all their years together and what they learned and how they all grew together.  
Science Bound students also get to go on Iowa State Saturday Visits. Three to four times each year Science Bound students take time to go visit the University and see different career paths they could follow in the ASTEM path. 
 As freshmen got used to their first year in high school as Science Bound students, ''There has been more work than there is in middle school, but I feel a lot more comfortable because of the help from the upperclassman,'' freshman Jada Mae Turner said.  
''It was educational. I learned that I had to work to get into Science Bound, and it was like a good progress,'' sophomore Aeelyn Magallanes said. Last year Magallanes was a freshman and was going through the progress of getting into Science Bound. 
"I would say that all these projects really helped me figure out and solidify what I wanted to do later in life, in terms of my career. These projects also prepare your mindset for different types of thinking, by going through the progress of research, presentation, and evaluation. I would say it prepares you for careers based in this type of work, or at least it has for me," junior Cosmas Nyaika said.   
''Science Bound helped me be a brighter person and helped me from the shy kid in the back and never had confidence in his answers to the kid that presents at big presentations, and helps others to become great as well as I did so I think the biggest thing is bringing out my inner self,'' senior Gavin Crippen said.