# 5
The impact of an East Side legend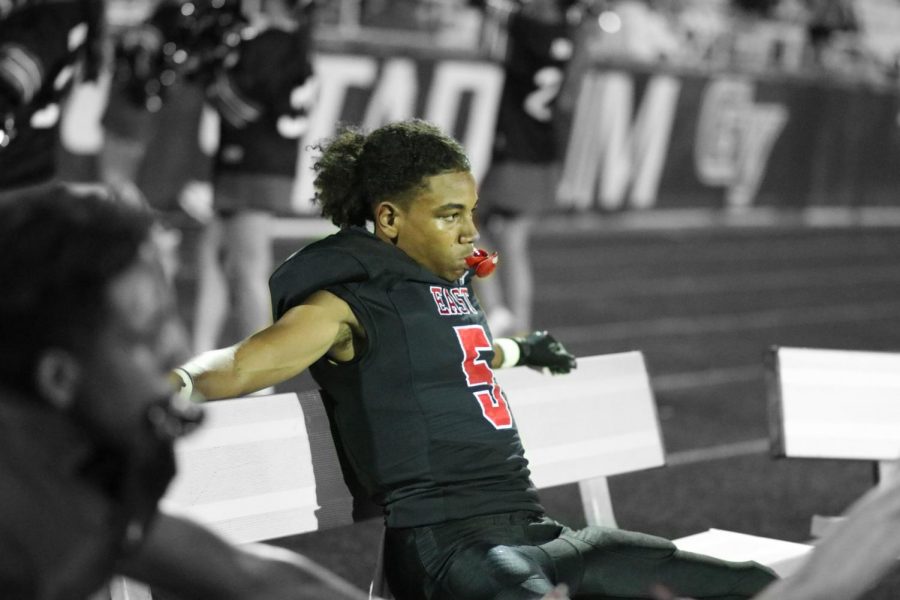 On Sept. 28 2019, Mandy Reidburn lost her son. Butch and Marsha Reidburn lost a grandson. Brayden Smith, Kyla Ousley-lee and Jovanny Reidburn lost a brother. Many lost a cousin, an uncle and a nephew. Aaron O'Tool lost an infielder. Bill Eggers lost a student. Greg Schoon lost a wide receiver. Sean Head lost a best friend. Many close friends lost one of theirs. The Eastside lost one of their own; junior Dominic Reidburn in a fatal car accident. 
"He was dependable. He was driven, his leadership skills were above all. He was strong, dedicated, he worked, he was a perfectionist, he always wanted to get better," O'Tool said.  
Reidburn played baseball and football for the Scarlets. He did more than contribute to the team as an athlete, he was a leader. Reidburn's dedication to athletics was unreal. No matter how much he already had going on, he never turned down the opportunity to get better. 
"I kind of envied the athlete he was and his drive… He was the first one there, last one to leave and always gave 100 percent. If you weren't competing to his level, he called you out and that's what we don't have enough of today," O'Tool said.  
Throughout his years of playing sports, his teammates became close friends. Those close friends became lifelong friends. 
"He had high standards for himself when he played and that's what made him such a great athlete. He was an even better friend than athlete though. No matter what, he always wanted what was best for his brothers. He pushed all of us to be better," junior Skyler VanRiper said. 
Reidburn's ability in both athletics and friendships were top of the line. Reidburn's close friends explained how he was great to be around.  
"We just admired his personality," junior Alejandro Camacho Sanchez said. 
Friends loved Reidburn for his amazing and outgoing personality. He was a trustworthy person. 
"He was there for you. I would always tell him I would never tell him anything again and I would always tell him things anyways," Head said.  
Reidburn's personality was everyone's favorite part about him. His smile radiated happiness outwards to others around him. Close friends had a lot to say about Reidburn.  
 "He was always like, hard on us, making sure we got to class, making sure we are on the right path so that we couldn't mess up. Dom was just like the older brother out of us. He would take care of us,'' Camacho Sanchez said. 
Reidburn was an older brother figure to all his close friends. He only wanted what was best for everyone.  He was always there for his friends and made sure they were okay.  
"Dom was a body builder, he motivated me to keep on going with everything I was doing. He was a great person," sophomore Anthony Roman Barboza said. 
Reidburn attended May Goodrell Middle School. Many teachers loved Reidburn in their classroom because of thehersonality he had. He was never the troublemaker in the classroom. Although, he loved to joke around with peers and staff. He was only there to get his work done.  
"He was someone who didn't quit. He would make you smile, even laugh when you didn't want to. Something I learned from him is how to take something you didn't like and make the best out of it," Goodrell teacher Shannon Buckroyd said. 
He made the best out of every situation. Reidburn never held his head down for too long, or ever. 
"Dominic was quite confident, a lifter. And a light in the world. He believed in the power of one, he knew his actions mattered, it was his mantra in his life. He would always help others no matter what, old and young he would always help others. I would rather feel the pain of his loss than rather not known him and got to love him," Goodrell teacher John Walling said. 
Reidburn, being a student–athlete, had multiple teachers that also felt honored to be his coach. 
"He was so competitive and showed great class and character while playing. He loved raising his helmet that donned the E for break down after practice, before and after a game," Goodrell teacher Bradley Manson said.  
Christ and faith were also a valued part of Reidburn's life. 
"What made Dominic stand out was that he was a young man that believed in Christ. He was not afraid to talk about his faith and encouraged others to open their heart to Jesus. He did that at an age where it's not seen as the "cool" thing to do," family friend Karla Lilly said. 
The future was bright and Reidburn had big plans, he was strong and passionate. He wanted to join the National Guard and his plans after were to become a police officer. He specifically wanted to do canine training. 
"He would always talk about how he wanted to be a cop when he got older because he wanted to fix the system. I knew he would've been a good one because when we he would talk about it, I would see the sparkle in his eye and how he was really motivated to achieve his goals," senior Niyata Adum said. 
The community has come together and formed a deeper bond because of the loss of this Eastside legend. There have been two candle-light vigils, one including a balloon release in honor of Reidburn's life. Before the football game on Oct. 4, the first football game after his passing, students held another balloon release at kickoff with black balloons. That same Friday at school, many students and staff wore black shirts in memory of Reidburn. Everybody at the game was encouraged to wear black, including players, cheerleaders and coaches from Waukee.  
"You see the Reidburn family and they just have so much support… The support from all the businesses and the students and the staff and just the community in general, that just shows you how much of an impact he had on this community," said O'Tool. 
Reidburn's mom has been through every mother's biggest fear, losing her child. She has advice for all the people affected by his death.  
"I think his smile, personality, kind heart, hard work ethic, faith and willingness to give back to his community left a very strong and lasting impression on his family, friends, and everyone who knew him," Mandy Reidburn said. 
His mother asks that his death not be a cause for downfall but a reason for rising. 
 "This has been so hard and traumatic, but I hope and pray that his friends, the younger kids who looked up to him, and anyone who truly knew him will see the legacy he left behind and strive to do better and help each other make our community a better place," Mandy Reidburn said.