Q+A with Mr. Chad
Father, husband, DMPS grad, family man, sports enthusiast, former Polar Bear, and current East High Scarlet. East boys' basketball welcomes their new head coach, Chad Ryan. 
Tell me about your family?  
Ryan Chad is married and has six children. Three daughters and th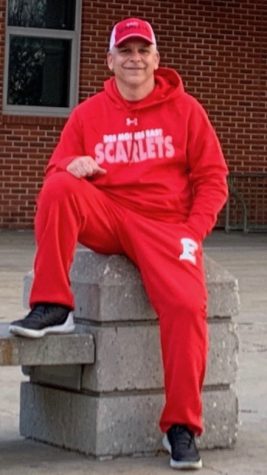 ree stepsons. 
What do you like to do outside of school? 
Ryan likes to spend quality time with family outside of school. He likes walks, bicycle rides, and watching sports as a spectator. He also enjoys "being a parent and following, watching, and being active in my children's activities," Ryan said. 
What do you think of East so far? 
"I love our community and the togetherness," Ryan said. The staff been very welcoming, and he likes the school pride. 
What made you want to work at East?  
Ryan is a Des Moines Public School graduate. He has worked at every high school in the district. After he took a year off from coaching high school basketball, he missed it and wanted to coach again. "My little sister was a member of the 2011 Girls Basketball State Championship team here at East. (Nijay Gaines) As a family we feel like it's meant to be," Ryan said. 
What do you like most about being a coach? 
Ryan has always had a passion for coaching. He feels being able to teach the game is awesome. "The number one thing is helping young people outside of the game and watching them grow and into great members of our community," Ryan said.  
What are some of your favorite hobbies? 
Ryan enjoys walking, reading, and playing fantasy football and baseball.