1 on 1
with two accomplished seniors
Walking into the doors of a high school are not always easy, especially at a big school like East. Bos was nervous high school was not going to be as good as she thought it would be but found amazing friends and teachers who helped turn that around. Such as Ms. Niemeyer who has been her
favorite teacher since freshman year. She also started to get involved in softball and basketball where she met new people.
"I definitely think my freshman year was really crazy. Weird yet fun at the same time," Bos said.
In the past four years Bos was achieving things that she did not think she would ever do. School never came easy to her especially in middle school but with determination and dedication she has climbed to now be tenth in her class with a 4.11 GPA, with those achievements, more opportunities arose, and she got into clubs that only students having high goals can get into. She knew she had to set high goals to be academically strong for herself now so she shell be ready for what challenges college will bring.
"I've worked my butt off to get As every single term and semester to get as high as I can in class rank. I am not number one, but I am close," Bos said.
"
I'm so grateful to have spent my four years at East High School and I'm going to miss all my amazing teachers who have made such a great impact on my life, and who have helped build me into the student I am today… Once a Scarlet always a Scarlet for life"
— Charity Bos
Senior year did not really begin to become "normal" until February. At the beginning of the 2020-2021 school year 100 percent virtual was implemented by the district. Using computers most of the year Bos learned to become tech savvy which is not a terrible thing considering it is a good skill to have. Although being virtual was not easy it did not stop her from having fun. She joined many more activities as soon as school started in person again like tennis, Scarlet Squad, National Honors Society, Ambassadors, Student Government, and yearbook.
"I would say my senior year has been crazy but overall, it's been good though even though we were virtual half the year," Bos said.
As high school is coming to an end Bos looks back and realized how she has learned to become more open-minded and not let things affect her. She realized that friends come and go and to let go of the ones that brought her down. She grew as a person and has become more mature and has prepared herself for the real world. She plans to go to Simpson College to major in education with an endorsement in US history and minor in mass communications for journalism.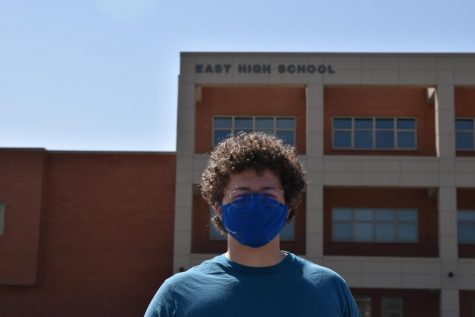 The high energy at games and around the school was one of the reasons Morris's favorite year was his freshman year. In his first year, he was involved in football, wrestling, and long distancing for track. Since then, he has been involved in many other activities such as band counsel, Vice president of GSA, Antiracist Inequity Team, National Honor Society and was a bugler for the military post.
"I personally had a lot of fun, classes were easier, school spirit was really high, and everyone was active during the football games," Morris said.
One of Morris's biggest achievements at East was being first chair at Iowa State University Honors Band. He was originally place last chair because they did not expect much from him being an East student. It was unfair to him because he was a student just like everyone else. Until he finally got someone to listen to him. They moved him to the first chair which made him feel proud knowing they did not see him as an East student but a talented player. "When someone sees you're from East you get held against a prejudice and they automatically expect way less from you… it was nice to break that seal that we all kind of trapped under," Morris said.
"
I really appreciate students and staff doing their best to make this year better. I'm going to miss everyone but I'll still be in touch with the school. I wish the best of luck to students and staff these next years on recovering from the pandemic"
— Dominic Morris
Seniors did not have a typical year. With the global pandemic shutting down school late their junior year, it kept Morris from doing the things he liked. Although it was not what anyone wanted, it allowed extra time for him and many others to discover their true selves. Leading to his senior year he has learned many things about himself and others and learned to be independent and learned to be successful on his own.
"I am just glad that the under-classmen will, as the way it looks right now, get a normal senior year. What happened to our class and the one above us was tragic, and as everyone knows senior year is supposed to be your best year. So, I'm glad they get the opportunity and get to do the things we never got to do," Morris said.
After high school, Morris plans to go to DMACC to become an RN and then go to Mercy College to get his bachelor's in nursing. He plans to become a Pediatric Nurse here in Des Moines and give back to the kids here in the community.