Misunderstood
How the media and outsiders portray East High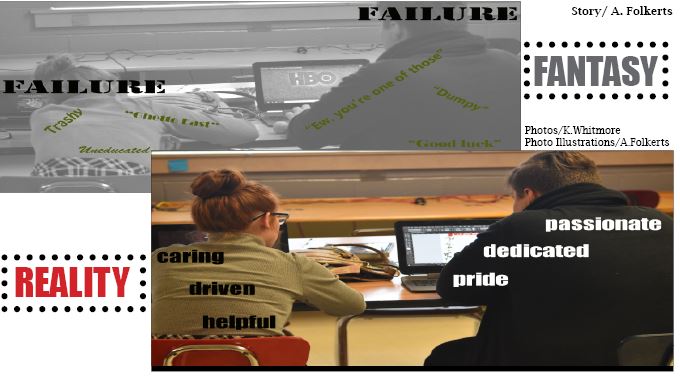 Abby Folkerts, Feature Editor
February 24, 2017
Fighters, bright, trashy, passionate, and uneducated. What on earth do all of these very different words have in common? They are all stereotypes of East High School. Chances are, you've heard one of these comments when you tell someone that you attend East. Why are these the words that come to mind when people think of East? What can we do to change it? Well, there really is no crystal clear answer to either of those questions.
"Oh you go to East?," they say as there is clearly a sneer forming on their face. Nothing upsets me more than when people on the outside judge East just based upon what the news says of us. That news station who judges us as being "fighters" chooses to interview a student who is clearly skipping class, as a primary source for their story. That one student tends to be arrogant on the issue at hand, and absolutely does not represent the thousands of other students inside the school getting an education. If the media took the time to come inside and find a credible source, people would understand that East is not just a school full of "trashy and uneducated" youth. I am aware that the people get their daily news through the media, and the media sometimes depicts us in a bad light, but what's on the news does not make the school as a whole "bad". If we are on the news, most of the time it's because someone was acting out of line and did something they shouldn't. Yes, there are troubled kids that attend East, and yes East does have its problems, but doesn't every school have these same issues? Every school has students who skip class, and students who cause some trouble here and there. No school is perfect. There is something every school has to work on, but why does East's flaws seem to be the only school's broadcasted in the media? There are lots of good that should take the place of all the bad. What about all of the times East does something positive? Like when we hold canned food drives for the hungry people in Des Moines, or when the Scarlet Ambassadors raise funds to donate items to the Blank Children's hospital or the YESS shelter? That side of East never gets publicized or shown on the news. There are so many great things that are happening at East, but yet somehow the news of a recent fight overshadows all of that. Over 2,500 kids in the Des Moines area attend East High, 180 days a year for four years, to get an education and graduate in hopes to be successful in the future. Since East is the largest 9-12 high school in Iowa, we have people from multiple races, and diverse cultures, all from a variety of different areas in the world. East has a ton of diversity. Students that go to East get a very different type of education as we are not just learning academics, but we are learning each other's differences and learning about the world as a whole. That is pretty remarkable. How do you think they feel when someone says a snide comment about the school that they take pride in? They feel pretty crappy let me tell you.
How can we change the way people look at East? Easy, but complex, we need to be model students. We need to stop fights on school property, and we need to stop doing things that make people look at East in a negative way. Pick up your trash. Use simple manners like please and thank you. Watch your language. Show pride. All of those things that were listed are all very simple, but they go a long way. Lets all work together to make East High School the pride of Des Moines.