Caleb's definitive winter guide
Your guide to winter fun in Des Moines
Hang on for a minute...we're trying to find some more stories you might like.
You've been laying in your bed, scrolling through Twitter all day. You haven't seen your friends all weekend, and you're desperate to get out of the house, but have no ideas of what to do. Well look no further, to your definitive guide to winter fun in Des Moines. 
Outdoors 
Winter is a great time to get outside and enjoy the weather that only comes once a year. Although activities may be limited, when one door closes, another one opens. 
Use the snow 
Getting outside and enjoying the snow is a great way to get active and hang out with your friends. You can have a snowball fight (the more people the better) you could go sledding, or if you're really bored, you could even build a snowman. The only limit is your imagination. You could also make snow angels. But only if you're really bored. 
Outdoor sports 
There are plenty of activities you can only experience in the winter. Destinations such as Seven Oaks, Sleepy Hollow, and Brenton Skating plaza are all great places you can ice skate, snowboard, or go snow-tubing. 
Indoors 
A lot of the time, it's just too cold to do anything outside. So being cooped up all Winter is going to leave you with even more free time than any other season. Despite what you may think, there are many things you can do inside this winter. 
Learn something new 
You'll be inside a lot during the winter, and chances are, you'll become really bored. Take this time to learn something new. It could be anything as simple as learning to do card tricks to anything as complex as learning to play the piano 
Get/stay in shape 
Just because you can't get outside and play your sport or work out doesn't mean you can't do anything. Fill some of your time by working out or practicing for your sport. A good place to do this is the YMCA, where you have access to various training facilities for only 20$ a month (Teen Membership), and financial assistance available to those who qualify. "[I work out] to get in shape for rugby, and just overall better my physical appearance and get stronger," junior Robby Duff said. 
Go to a sporting event 
There are plenty of opportunities to watch sports this winter. As far as professional teams, you can go to an Iowa Wild or an Iowa Wolves game, both of which take place at Wells Fargo Arena. You could also go to an East Basketball game, swim meet, or wrestling meet with your friends, which is cheaper, and also doubles as a social outing. But don't take my word for it. "It's fun, it can be exciting sometimes," said Alex Liu, varsity swimmer, on why everybody should come to swim meets. 
Give back 
The holiday season is a season of cheer, so why not spread a little bit yourself. Take some time to give back, whether it be through something as small as paying it forward at a restaurant, being a secret Santa, or most importantly, volunteering. The holiday season has a lot of moving parts in order to properly function, so it is a great opportunity to help out at a homeless shelter, package meals, or just help others. "Volunteering stands out on college and job applications. It helps you build connections with people and organizations who can attest to your work ethic," former community coordinator Jill Padgett said. 
 Where to go…
Brenton Skating Plaza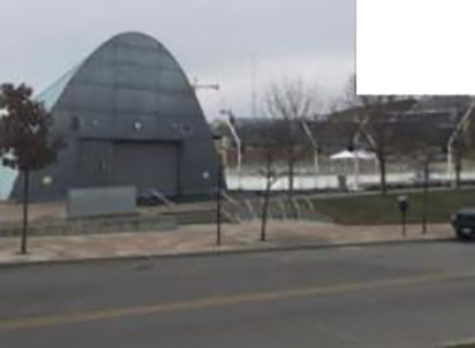 photo/ A. Arroyo

Located in downtown Des Moines, this is a great place to come skate with your friends and family, and certainly won't break the bank. Adult Admission is 8 dollars, with a 4.50 skate rental, and for kids and seniors, admission is 5 dollars. Brenton is open M-TH from 3 P.M. to 9 P.M., Friday and Saturday from Noon to 11 P.M., and on Sundays from Noon to 6 P.M. More information is available at www.dsmpartnership.com/brentonskating 
Seven Oaks: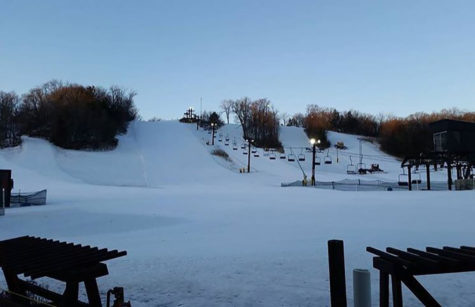 photo/ @sevenoaksrec
Located in Boone Iowa, this is the best place to go if you have an itch for outdoor sports this winter. They offer skiing, snowboarding, and tubing for all ages. Lessons are offered for beginners, and all of the aforementioned sports have equipment available for rental. For specific pricing and hours, check out www.sevenoaksrec.com 
Grandview Park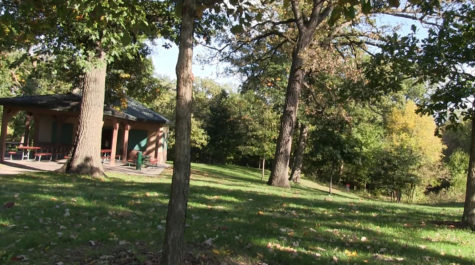 photo/ C. Cook
If you're just looking for a nice, relaxing, and more importantly, free afternoon, look no further than Grandview park. Located on the East Side of Des Moines, this park offers a variety of activities. From disc golf, to a hike through nature trails, and some great hills for sledding, this is a great place to visit. However, you will have to bring your own equipment, and park hours are Sunrise to Sunset. More information available at www.dmgov.org