Shooting Hoops with Aaliyah Williams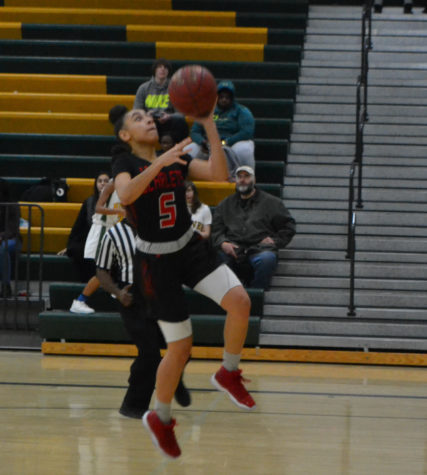 It was the day before the first game of the season, and freshman basketball player Aaliyah Williams still did not know whether she would be playing varsity. Williams comes from a basketball-oriented family. Both of her parents played varsity all four years of high school, so it came as no surprise when her basketball coach called her over after practice, and gave her the news. "Liyah, you're playing varsity tomorrow."
"I was really young, and my dad claims he saw potential in me, so he put me in a couple Christian leagues and I've played ever since," Williams said.
Williams grew up in Des Moines, just like her parents. Her mom went to East for freshman year, and then transferred to Roosevelt, where she met Williams' dad. Currently, her dad coaches a team called the Iowa Battlers. Williams started playing basketball when she was five years old, and has loved it ever since. She has been playing in the East program since she was in fourth grade.
"After a while it (basketball) gets tiring and it's very time consuming. You have to be really dedicated," Williams said.
Williams plays basketball almost year-round. During the summer she plays AAU (Amateur Athletic Union) basketball for Kingdom Hoops, and the past two years she has been asked to play on a team for Nationals in Oklahoma. She got to meet 11-time NCAA Women's Basketball National Champion Geno Auriemma, the head women's basketball coach for the University of Connecticut. Her favorite part of basketball is how it takes her across the country and introduces her to new people.
"I don't really have an off-season, because once school basketball is over, track starts. And also, AAU begins when school ball ends," Williams said.
This season for East, she is playing four quarters varsity and two quarters junior varsity each game night. She said that when she is playing varsity, she is held to a higher standard, and when she is playing junior varsity, she has a little more control. Shooting is her self-proclaimed best basketball skill. It seems that Williams' time is well occupied by basketball, but that is not her only sport.
"She has more confidence playing at the varsity level and is less nervous in games. Aaliyah has also become more knowledgeable of the game and is beginning to understand her role and how she affects both Varsity and Junior Varsity. She still has a ways to go but right now we are happy with the progress that she has made," assistant coach Samisha Powell said.
Basketball is a difficult sport to be involved in. The varsity and junior varsity teams have practice every Monday and Thursday with games on Tuesdays and Fridays. Practices are long and consist of many things, including conditioning drills, shooting drills, and going over set plays and offenses.
"She is a leader on the basketball court, always giving it her all and doing her best," JV basketball player Hannah Oleson said.
Like most high school students, Williams has yet to figure out what she is doing after high school, but she hopes that basketball is a part of it. She hopes to earn a scholarship to a college with her basketball talent, but she does not care to which college, though she said she has always loved the University of North Carolina. For now, she strives to be the best student, basketball player, and person that she can be.
"It's like anything you wanna be good at, you have to put in the work for the outcome you're expecting or yearning for," Williams said.