Beyond Turnt: An East High student ran clothing buisness
You may have heard of brands like Nike, GOLF, Thrasher, and Supreme. There is one thing all of these brands have in common. They are all ran and controlled by people of high power, most of which are worth millions of dollars. Here at East High School, there are many of students who have their own social media following, SoundCloud releases, YouTube channels, and more. There is one brand that stands out. Created by juniors Colby Rinehart and Devin Gullion, their new brand "Beyond Turnt Clothing" is everything people are looking for in a small business put together by East High students. They have it all, T-Shirts, hoodies and shorts.
"Devin and I were talking about another local brand one day, and we both agreed that it would be sick if we made our own. We stopped saying it would be cool and did it." Rinehart said.
Gullion and Rinehart are both co owners of Beyond Turnt. They split all of their payments for the making of the merchandise, and the money they make back from the merchandise. Since they both came up with the idea, make, design, and colors, they agree to split everything.
"The hardest part about splitting a brand is the money, because we make and sell. We make quite a bit, but then we have to split the money in half. It also works out in our favor because we split all the payments we make as well, so it's not as expensive." Gullion said.
While Gillion works on the manufactu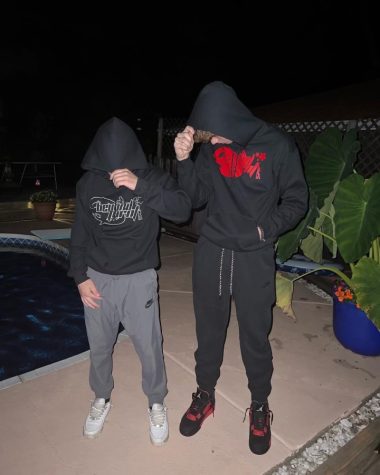 ring part of the brand, Rineheart works on the design. First released this summer, Beyond Turnt is a fresh brand, new to the clothing business scene. Teased on Instagram, Snapchat, and Facebook, most East students knew about the brand, without even physically speaking to the owners themselves. Students were reposting and spreading the word about a new student owned business.
"Our first drop was July 25, and we sold out. Our most recent drop was September 27, and we have been doing pretty good so far. We've been making decent sales, and I am really excited for our next drop. It will be in about a month or two." Rinehart said.
"For now, our goals for our brand is to be known across our community, and hopefully reach a bigger audience. We want to be more out there; like worldwide," Gullion said.
Beyond Turnt is the brand of the summer, fall, winter and spring. The coolest hoodies, T-Shirts, and shorts you can imagine- Beyond Turnt has them.