Meeting Mrs.Hernandez
East High School's new Heritage Spanish teacher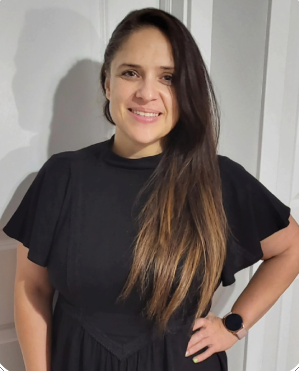 You may have seen her standing outside her classroom, 1065M, greeting her students with a warm smile. When you enter her classroom, you're welcomed with soft music playing in the background. You may have not met her or know much about her, but you're about to. Meet East High School's new Heritage Spanish teacher, Shelia Hernandez.
How many kids do you have?
Hernandez has three kids, her oldest is Meralyz who is 19, Jeray who is 15 and her youngest Janiel, is 11.
Where were you born and where did you grow up?
Hernandez was born and raised in Puerto Rico. As a kid, Hernandez would always play in the water and in the mud. From where she lived, she had a beautiful view of the Caribbean Sea.
In your free time, what do you like to do?
Hernandez likes to play the piano and talk with her children any chance she gets.
What would your students be surprised to know about you?
Hernandez is a worship leader at her church, and she knows how to roller skate. Once, Hernandez went ice skating for the first time with her kids and she was able to ice skate with ease, Hernandez was nervous that she would fall on the ice, but she didn't fall once.
What other schools have you taught at, and for how long?
"I had a children's center for seven years," Hernandez said.
She then taught Head Start for three years in Omaha Nebraska, taught at Moore Elementary in 2018, Hoover Middle school in 2019, Meredith Middle School in 2020, Hiatt Middle School in 2021 and she hopes to stay at East.
Why did you choose to teach at East? "Because when I got here, from Puerto Rico, East side became my community, and my kids went to school on the East side," Hernandez said.
She loves teaching heritage Spanish because she has great students.
"I'm very happy to work with students that are Hispanic, like me," Hernandez said.
What are your school goals for this year as a teacher?
"Help my students love their roots, their cultures, and where their family is from even more. And that they learn to appreciate speaking Spanish and how special it is to be bilingual. Together we can grow more, both professionally and like people," Hernandez said.
What school goals do you have for the future?
Hernandez hopes to keep helping and get more involved in the Hispanic community. Hernandez wants to keep promoting East's school's diverse culture and get her master's degree.
Anything else to add?
"I'm very blessed to be a part of East and to have the opportunity to work with the community," Hernandez said.