The ones left behind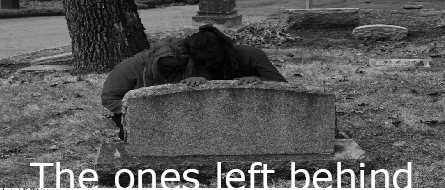 Lynsey Borgen
February 24, 2017
My hands were shaking as I tried to decipher the news. This can't be happening, I can't believe this, how could he be gone? Was there anything I could have done to stop this? How am I going to move on? These are some on the questions running through your head, how do you cope with this news and is there anyone out there to understand. This is what the people affected by loved-one's suicide are thinking.
Sometimes the people closest to you are the ones that are hiding the most. "He was my step-cousin. We were together every day of our lives from the time I was born until kindergarten," sophomore Danielle O'Connor said. When events like this happen the people most affected are the ones closest to the ones that have passed. Usually the loved ones had no idea what was going through this person's mind would affect them this badly. " We knew something was wrong and they were doing a lot of tests to diagnose him, his mom had an idea but I didn't think he would do that," O'Conner added.
Some people have suicidal thoughts but don't know how to deal with them, so they push everyone away. But what they don't realize is that their friends just want to help them. "I have a friend that was going through a really tough time in her life. I felt like I was not enough to get her out of her rut," Senior Lexy Bergan said. "For a while I was really worried for her wellbeing," Bergan adds.
If you feel like or know that one of your friends or family members is going through a tough time, then you should stick by their side even if you feel like you are giving little or no help to the situation. "I do think that me telling her how much I love her and how she affects so many people made her feel more important than she had been feeling before," Bergan said. Even if someone feels it's not needed, counseling can be a big help to someone going through a tough time in their life. They may not notice it but they can get the help they need in a healthy way.
Just remember that suicide is never the answer to anything, there is always a place you can go or someone you can talk to for advice. Think things through before you make your final decision.