Senior Daren Nguyen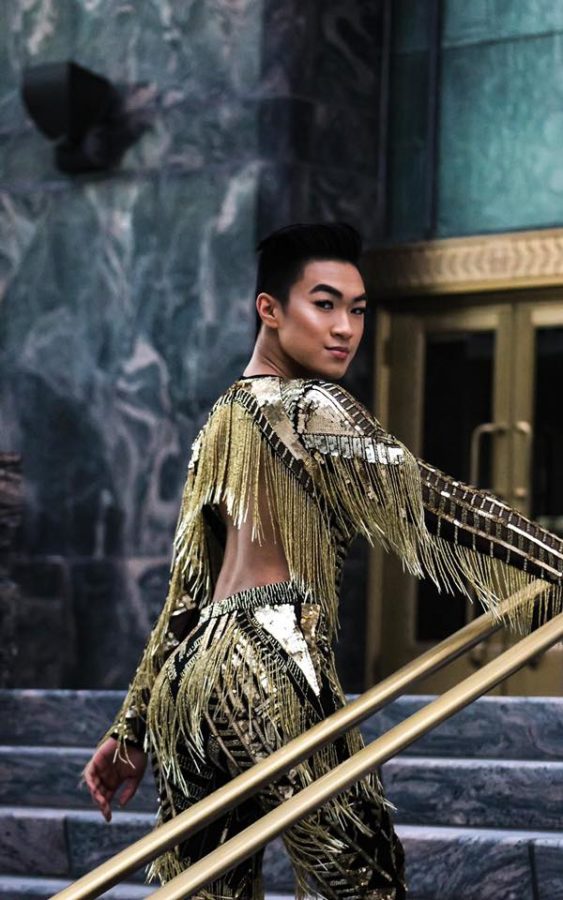 He's known for being one of the best dressed at prom, he's the most outgoing and humorous of his classmates, he has friends throughout the school, he uses the world as his runway. But here's an insight of what you might not know about senior Daren Nguyen.
How has your life changed these past years attending East?
"Junior year was a turning point in my life. I was going through a huge case that took a huge toll in my life. Led to me finally changing my hairstyle after having it the same way my whole life. Change is something that I really needed in my life after a really hard time. I finally got a job and a car so I could be independent with just about anything. Going into my senior year, I've never been so care free in my life. I used to care about what people thought about me everyday, and I just suddenly stopped. I am just focused on working and making my transition to college as easy as possible. Having a different mindset is something I've noticed I went through. It's okay not to be the old you, you should change as you get older and if you aren't that's all on you," Nguyen said.
Tell me about the different things your involved at East ?
"I am part of a few things here. Like cheerleading Orchestra, Ambassadors, yearbook, student government, and Upward Bound. I have different skills set for each of those clubs/orgs. I joined cheerleading because of my many friends on the cheer team. I tried out my junior year and got to cheer on varsity my first and second year. Cheers allows me to learn quicker as I pick up new cheers and dances fairly quickly. I've played the viola since 4th grade and just continued it all four years of high school. I get to relax at the end of the day and play with such an amazing group of students and get to push through the tough times of learning a difficult piece. I joined Ambassadors because I wanted to be apart of the amazing projects that they do that benefit the community. My involvement in ambassadors led me into yearbook due to Mrs. Niemeyer teaching both classes. I've been apart of student government since my junior year. Upward bound is where I have my time to focus on college, from applications to scholarships. Each of these clubs I get to become a leader and make things even more enjoyable with my humor and attitude," Nguyen said.
What is something you had to face that changed you in a positive way?
"I grew up with only my mom, uncle, sister and grandma. I lived in my tiny one bedroom apartment unknowingly having my family struggling financially. My mom working from 5am. to 7:30pm. every weekday with my grandma working less hours. My uncle worked as a waiter but didn't work much. He was the father figure in my life. He always made sure my grades were 100 percent. Everything had to be perfect and if it was 90 percent he was disappointed. That pushed me to always try my best, and that goes for everything not just my education," Nguyen said.
"Another difficult thing I faced was finally finding my voice to speak out about my very toxic and manipulative "relationship". Even though I was gaining so much support, I was extremely stressed as I still had school going on. I felt like all eyes were on me when I came to school and I had a hard time concentrating. As time passed, I was finally feeling like myself, but even better. I grew into someone who is determined and motivated to reach my goals no matter how hard it gets, I will always push myself to achieve what I know I can."
Tell me about something your passionate about?
"I'm very passionate about self-care, I always want the best for myself not to sound cocky. I am so into fitness, making an income, beauty a, and my grades. Everyday always doing at least 3 of those things. It does get tiring but my self motivation really pushes me to continue working out, working, studying, all while lookin good," Nguyen said.
Tell me about your love for makeup and fashion? Is just a hobby or is it something your really passionate about?
"So I started wearing makeup around seventh grade. I had terrible skin and I looked up how I could cover it on youtube. A video popped up of this neutrogena foundation that helps clear acne. So I go to Walgreens and buy the foundation that was very very pale and had absolutely no idea how to apply or blend foundation. Everyone asked "are you wearing makeup" and I was like "yeah!!, you could tell." As time went on I dove into the beauty community learning more about the application of each product and the different types of makeup. Along with that came fashion. My first dream job at a young age was to be a stylist. Seeing such creative prices from balmain really caught my attention to what fashion really is. Although I love beauty the beauty industry as of right now is a hobby, but down the line if opportunities rise up I wouldn't be opposed to turning my hobby into a career!," Nguyen said.
What is something you would tell your freshman self?
"I would tell my freshman self to be confident in yourself and to not settle for minimum. I'm so mad that I didn't ask to take some of the college/AP classes that East offered. Now seeing more and more sophomores taking colleges classes makes me jealous of the opportunities that I missed.
What are your plans after high school?
"I plan on going to the University of Iowa studying Mass Communications. I think I would really have fun seeing myself in public relations as I see myself as a people person," Nguyen said.
What are you most excited about life after high school?
"I am so excited to live on campus with my best friend Delanie Jackson! I have no idea why I'm so excited to attend college when i'm well aware of the amount of stress and tears that come with it, but I think i'm just ready for a huge change in my life. I also have a paid internship with a presidential candidate in the summer and an online college class that I'm actually pumped about, its something im really looking forward to this summer. Keeping myself busy something i didn't know I liked doing. I think not being in school for 8 hours will really give me so much time to do even more fun and exciting things," said Nguyen.