The 2022 Election, and everything you need to know
https://youtube.com/playlist?list=PLYM8q_FGA8wiE3VN1OoCxii8uJcdv8Hhq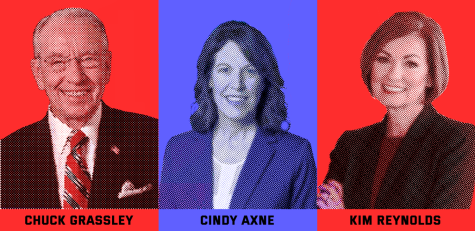 The three major candidates running for office illustration – Illustration/C. Ramirez-Chavez
Story/C.Ramirez-Chavez
Democracy, anyone can take part in it, even you. If you are interested in partaking in democracy and want to be represented, there is good news: This year's United States midterm elections are taking place in November.
Now, what is a midterm election? These types of elections always happen in the middle of the President of the United States' four-year term, always taking place in an even numbered year. Who do the people even vote for when the president is not up for election, some might ask? At most, there are at least two offices to vote for and three during some special years and this year, 2022, is one of those years.
What type of elected offices are up this year? First is the House of Representative offices which represent a certain district within the United States population with a new map of seats happening every 10 years, and because of that some states have more offices than others; Iowa has four house seats with the new 2020 map design with Iowa third house seat being the seat that East High School and the whole city of Des Moines is in, the current office holder for the third district is congresswomen Cindy Axne who was first elected in 2018 and who has held office since January 2019 and is running for a third term this year.
The next notable office that is up this year is the statewide senate election that is currently being held up by seven term senator Chuck Grassley. Grassley is running for an eighth term this November. Grassley first entered Iowa politics serving the Iowa House of Representatives from 1959 to 1975, then the United States House of Representatives from 1975 to 1981, and then he ran and won the 1980 senate election and has been serving the senate since 1981 and has been involved in Iowa politics for 63 years as of 2022.
The final office that is going to be discussed is the Governor of Iowa, now the current office holder for this position is Kim Reynolds, she first started her political career in 2008. When she ran for 48th district of the Iowa Senate seat, then won and took office in January 2009 and stayed in the Iowa Senate for two years, she then joined Terry Branstad's Governor campaign in 2010 and was elected to be the 46th lieutenant governor of Iowa and took office in January 2011. In May of 2017, Governor Branstad resigned as governor of Iowa to accepted Former President Donald John Trump request to become the 12th United States ambassador to China and due to this Reynolds, became Iowa's Governor on May 24, 2017, she ran for a full term in 2018 and won and now she's running for a second term this year.
These are the incumbent members who are currently holding the offices that were discussed and you can't have an election without other options to vote for to challenge the incumbents with challengers like Zack Nunn going up against Cindy Axne for Iowa's third house district, Michael Franken challenging Grassley for his senate seat, and Deidre DeJear going after Reynolds governor seat. There are way more factors to take into consideration when talking about an election so click the video link for a more in-depth videos about the 2022 elections.