Accepting Nothing Less than Success
Get to know the class of 2021 Science Bound Seniors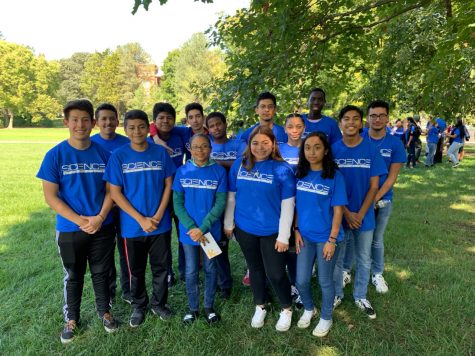 Science Bound is a scholarship program for students of color under Iowa State University. Des Moines Public Schools is one of the school districts who are part of this scholarship program. Science Bound prepares students for college with many different activities. Let's get to know East High School's Senior Science Bound Scholars.  
Tayjah Butts is a success bound woman of color. Butts is involved in volleyball, golf, Science Bound, Upward Bound, student government, National Honor Society, and Gifted and Talented. Butts plans to attend the University of Iowa and major in political science on the prelaw track.  
"My experiences at East involved attending a lot of the after-school activities involving football, basketball, baseball games, track meets, and assemblies to make sure I am there to support East in every way I can. Also, my experiences in Science Bound involve attending the meetings and doing assignments to better prepare me and give me an idea of what I would like and wouldn't like in the future," Butts said. 
Iver Cruz-Gregorio is 17 years old and was originally born in Rochester Minnesota. One of Cruz-Gregorio's hobbies is that he loves to cook during his free time. Cruz-Gregorio is the president of the chess club and is in Science Bound. Cruz-Gregorio's plan after high school is to go to Iowa State University for his bachelor's degree and then go to Des Moines University for medical school.  
"Experiences I have received in the Science Bound program were college preparation, preparation of classes for the upcoming school year in the summer, career explorations and having many options to choose from, hands on experiences in the field I am interested in such as having been in labs at Iowa State University, having built a relationship with a group of people and having a great collaboration," Cruz-Gregorio said. 
Aaliyah Freeman is 18 years old, and she likes to work and spend time with friends. Freeman is involved in yearbook, cheerleading, and Science Bound here at East. Freeman is planning to go to Iowa State University under the Pre-Med track.  
"My experiences at East have been great and fun. I made lots of friends and got to try new things that is didn't think I would end up liking. I have been in Science Bound since 7th grade and the experiences have been fun. I got to go to Iowa State University for Science Bound Saturdays, and I got to explore more career options by doing those. Doing oral justifications helped so much because I am no longer nervous to talk to others or give interviews," Freeman said. 
Miguel Garcia-Palacios is the middle child from his family. Garcia-Palacios is involved in Scarlet Squad and Science Bound.  Garcia-Palacios plans to become an auto collision tech expert.  
"At East I experienced many things like a lot of people here are friendly and my experiences in science bound is that it's a good program to be in to explore ASTEM fields and to discover which one is for you," Garcia-Palacios said.  
Denzel Gomez is a relaxed and thoughtful person. Gomez has been involved in Science Bound, Upward Bound, and soccer at East and outside of East. Gomez plans include on going to a 4-year university where he'll find his career.  
"My experiences at East have been good. It's easy to find where you belong which is what makes East a great school. The students and teachers get along well, and it makes for a good environment. Also, in Science Bound it's almost like the community found at East. Everyone gets along and although it's academic based it doesn't feel like that. Science Bound also encourages us to get involved how we can, with school or our community," Gomez said. 
Ena Marie Guerra Caballero is the oldest child out of four children, Guerra Caballero is a first-generation Salvadoran American that will attend college. Guerra Caballero has been involved in National Honor Society, East Ambassadors, Scarlet Squad, Upward Bound, Science Bound, and Student Government as Class Vice President. Guerra Caballero Plans on attending Mercy College of Health Sciences and majoring in Nursing. 
"My experiences at East have been great. I really love the diverse community we have here and the effort we get from the staff and teachers," Guerra Caballero said. 
Guerra Caballero favorite thing at East was helping as much as she could, especially with events such as prom, senior breakfast, and graduation.
"My experiences with Science Bound have been great also, I would say that the community of Science Bound is my favorite because we are all like a family. I grew with the rest of the Science Bound seniors and I absolutely love and support them so much. I enjoyed my years in the program, and I definitely will miss it," Guerra Caballero said. 
Aeelyn Magallanes-Tristian is 18 years old; she is the first-generation Mexican American that will graduate in her family. She is proud of her Mexican roots and culture. Magallanes-Tristian is involved in Upward Bound, Student Government, Al Exito, Scarlet Squad, Tech Journey, Soccer, Academic Decathlon, Barbell Club, and PAPAYA. Magallanes-Tristian plans to attend to Iowa State University in the fall and major in Architecture. Magallanes-Tristian also plans to minor in art and Latinx studies.  
"I have had the amazing opportunity of meeting new and diverse people at East while seeing them grow and learn. I got to experience sports games, dances, pep rallies, spirit weeks, and it has been such a fun 4 years. Also, In Science Bound I got to experience science bound Saturdays which have helped me in so many ways, but I got to learn more about the campus and met so many new people from different schools. I also enjoyed meetings on Thursdays because I got to be within the Science Bound community and got to learn new things about everyone," Magallanes-Tristian said.  
Alexandra Momaney is a determined person; she likes to succeed and when she is faced with failure, she motivates herself to always try again to reach her goals. Momaney has been involved in Science Bound, Cheerleading, and Dance. Momaney plans to attend Iowa State University and get her undergraduate degree in biology or genetics. She then plans to go to law school. Even though Momaney is rethinking where and what she wants to do for her undergraduate degree, her end goal is to go to law school.  
"I came to east the middle of my sophomore year, since then I have not had any negative feelings towards East. I like how big and diverse the school is. If you stay out of drama, it is a good community despite all the negative stigma around it. Publicity often makes it seem 'ghetto' or hostile but in reality, it's not different from any school I've gone to," Momaney said. 
Andy Montalvo-Martinez is a first-generation Chicano and has attended Des Moines Public School his entire life. He is involved in Student Government, Des Moines Public Schools equity and racial justice team, and Science Bound. Montalvo-Martinez plans on attending Iowa State University and major in Biochemistry and minor in Latinx studies and Spanish.  
"My favorite experiences at East have been becoming class president and working to end the school to prison pipeline by removing SROs. My favorite experiences in Science Bound have been being able to mentor younger students, being able to explore my career interests and having a support system," Montalvo-Martinez said. 
Abdirizak Noor favorite sports are basketball and football. Noor is involved in Upward Bound and Science Bound. Noor plans to attend Iowa State University for four years.  
"I would say that my experience at east high school has been decent the 4 years I've been here and my experience in Science Bound has been great. I've enjoyed the ISU trips that we took on Saturdays and other activities like Shadow Day," Noor said. 
Christopher Orantes-Rivera is a student who believes that anything can happen if you put your mind to it that's why he put his best effort to everything. He also likes sports, working out, school, and enjoy life without regrets. Orantes-Rivera plans to go into the automotive industry. He will be attending Des Moines Area Community College and Iowa State University and when he graduates, he plans on opening his own shop to work on cars.  
"My experience at East has been great I've met so many amazing teachers that became my friends and they help me push myself to become a better person I could honestly say that being at East is the best thing that happened, hanging out with friends in class and sport and just chilling with the teachers best experience I've had and with Science Bound it gave me such an amazing experience meeting people all around different school districts making friends with them and also learning new things I never thought I would learn, I could say I've had a great experience with it," Orantes-Rivera said. 
Oscar Saldana Hernandez is an outgoing person; he tends to see things through when he is determined. He is also someone who you can count on no matter what lies in between. Saldana Hernandez is involved in soccer, Science Bound, and a local church group. Saldana plans to attend Iowa State University and major in mechanical engineering or any engineering major.  
"My experiences at East have always been fun or some sort of learning experience. I could always laugh with my classmates and teachers. As well as a teacher I can count on like Ms. MacDonald or Ms. Fitz," Saldana Hernandez said.  
"Science Bound has been a learning experience from the beginning. As there has been something new to learn every day. We can grow as a community and learn to help each other out. SB Saturday's were the most beneficial as we would learn new things every time and meet new people. We would never come back empty headed," Saldana Hernandez said.  
Oscar Silva is a determine hard working person who is very passionate about their goals and aspersions in the future. Silva is involved in National Honor Society, soccer, and East Ambassadors. Silva plans on attending Grandview University and major in Athletic Training and continuing playing soccer. 
"My experience at East has been a mellow one, I've met many people who have come and gone that have helped me become who I am. I've been in Science Bound since seventh grade; the program is a great way for many minorities to get the opportunity to go to college at Iowa State University. But as I went through the final years of the program I felt as if it wasn't for me anymore," Silva said. 
Ding Tut is an outgoing, joyful, and determined person to become successful. Some activities Tut have been involved in would be Gifted and Talented, Educational Talent Search, Basketball, B2B (an African American Leadership group), and Science Bound. Tut plan to become a mechanical engineering or an aerospace engineer. Tut also explains if that doesn't work out, he plans to become a psychologist.  
"As for Science Bound, I've had very interesting experiences with careers and overall, what college is going to be like. It's made me prepared and have a great perception on how I'm going to shape my future. Although it might have been a struggle at sometimes Science Bound has been enjoyable and it was great to learn a lot of new things within my education," Tut said. 
Before graduating the Science Bound teachers wanted to give off advice to the Science Bound seniors.  
"Don't procrastinate and always show up. Do what you say you will do and be the best you can be. Enjoy your life and make sure you don't work your life away. Slow down and enjoy the beauty. Be compassionate and empathetic and help those around you. Lift others up. Don't settle!" science teacher Nikki Dorr said.  
Another message for the Science Bound seniors, "My message or advice to the Science Bound Seniors is that I hope you always know and believe in yourselves at least half as much as I do. You are such an amazing group of scholars, and I am so lucky to have had the opportunity to be a part of your journey. Thank You," social studies teacher Randi Fitzgerald said. 
Congratulations to the Science Bound class of 2021.