Meet The Tribe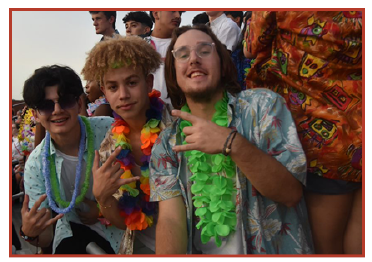 Every Friday night under the Williams Stadium lights you can see these three in front of the student section cheering their East High Scarlets on. Jayden Sorter, Dylan Baldwin, and Memo Sanchez. These are the East High boy student section tribe leaders for the 2022-23 school year.
What does being in the Tribe mean to you?
"Make sure the football games are fun and people enjoy their time," Sanchez said.
"To me, I feel like it means we have to take charge especially of the student section make sure were like being apart of the activities the school runs," Sorter said.
"Being in the tribe is really important to me because I always take pride in being an east sider," Baldwin said.
Why do you think you were considered for tribe?
"I bring a different type of energy to the game," Sanchez said.
"The person I am and the energy I bring, I stand out and have fun," Sorter said.
"I was cool with a lot of seniors last year through baseball and stuff like that," Baldwin said.
What is your favorite thing about being a tribe leader?
"Being in the front and starting the chants is one of my favorite things," Sanchez said.
"I have to say other than losing this year, so far just being out there with everyone from school. Just the vibes are good, everyone comes together and have fun and just not worrying about winning 24-7," Sorter said.
"Being able to start the chants, tailgates, and running the flags," Baldwin said.
What would you change about the student section?
"People in the student section just have to be a lot louder. I look back and people are just standing there. We need to get louder for sure," Sanchez said.
"We are just going to start off simple. We should get a rope and section off the student section from the parents. Especially at away games, we don't want to be those people to ask them to move," Sorter said.
"I wish more people would come and participate more," Baldwin said.
What has been your favorite tailgate and why?
"I think the first was probably the best. Lots of people around having fun it just was a good time," Sanchez said.
"The first one because it was a home game, and everyone pulled up even though it was early," Sorter said.
"Probably the first one because there were more people there," Baldwin said.
What is your favorite theme and why?
"The frat boys' theme would be pretty cool. I think people are going to show out for sure," Sanchez said.
"East side legend, we get to support everyone we lost who went to our school or just on the eastside. Like my boy Dom. Just to come out here and have a remembrance of everyone," Sorter said.
"The memorial one I like remembering everyone," Baldwin said.
Is being a tribe leader harder than you thought?
"It was hard at first because we didn't have time for the first game. But I think we have gotten used to it. We all have our roles," Sanchez said.
"Yes and no. It is not hard, it is just having responsibilities. Just doing your part for tailgates. Bringing cup pong and water and food for everyone. Each person does their part, then its good," Sorter said.
"Being in the tribe isn't as hard as I thought. It's pretty easy," Baldwin said.
You're sitting in the student section of a football game at the East stadium when you hear the crowd cheering. They're all dressed up in Luo attire, most wearing a lei around their necks. There chanting and cheering. The energy is amazing. You overhear a few students talking about how lit the tribe members are and praising them for keeping the crowd so hype. Meet Kyla Ousley-Lee, Kayte Yaw, and Lea Golston . There three members of the tribe and they are responsible for all the hype.