Madi Williams
Meet the coach of East's color guard since 2015 and learn what makes her so great, before she leaves for good.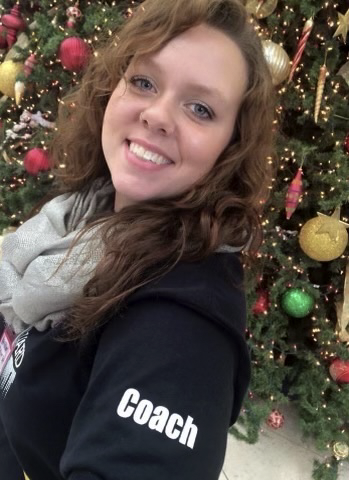 You're sitting out on the bleachers of Williams Stadium on a cool Friday night, and it is officially halftime. You see the band getting in place on the sideline and next to them, you see the color guard but, who's that walking up to them? That's the color guard coach, Madi Williams, preparing the color guard for yet another great performance. She may be leaving this year but before she does, you need to know some background on who this amazing coach is.
Madi Williams grew up right here in Des Moines. She attended high school here at East and went to Grand View University for college. She is very proud to be an alum of both these schools.
"I'm a proud eastsider for life," Williams said.
Williams started coaching color guard at East in the summer of 2015. Williams originally didn't know that she wanted to be the coach for color guard until she was asked to. She had stayed involved with color guard since she graduated, and her sister was assistant coach. Color guard was something that Williams always enjoyed, and she knew that she never wanted to leave it behind. Coaching was something that Williams was exceptional at and that never went unnoticed, especially by her assistant coach, Kennedy.
"There's not just one moment where Madi has said something but more of her constant optimism, exceptional leadership, and empathy that will always stick with me," Kennedy Kennedy said.
Williams's favorite part of her career was meeting different and talented young adults and unlocking that talent through color guard. She thinks that it is very rewarding to watch her team prove how awesome they are when doing even the simplest things. She especially enjoys watching the confidence her team gains and knowing that color guard helped with that experience.
"My girl Madi is a very good coach because she knows how to push you to make you better. She won't let you give up, ever," sophomore Jay Johnson said.
Other than being an amazing coach, she is also an amazing mother to her two children, Ruth and Franklin. Coaching and being a mother is hard, but Williams doesn't see it that way. She sees it as gaining patience, flexibility, and maturity. Being a mother has helped her in coaching and vice versa. There have been many challenges she has gone through while coaching and being a mother, but her biggest challenge has been childcare. When she first had her daughter, she would bring her to practice, but it was very distracting. Challenges like timing and scheduling were also something that made coaching and motherhood harder, but Madi always persevered.
"Ultimately, that's why I've decided to step away. I would like to have more time with my kids as they grow up and get involved in their own activities," Williams said.
Something that Williams likes doing in her free time when not coaching is just enjoying the time. She fills her schedule up so much that when she has that free time, she just sits and does nothing, which she really enjoys. Some hobbies that Williams has are crocheting, which is something she is recently learning, reading, cooking, and she really enjoys scrolling through TikTok for an hour or two. A goal that Williams has is to learn at least one TikTok dance which she is still working on. Despite all these hobbies, color guard is and will always be her favorite.
"Madi has dedicated so much time and so many years turning color guard into a fun filled and inviting program for anyone who wants to show school spirit with a little extra sparkle. I hope East High never forgets all she's done," Kennedy said.